Disaster Recovery
05 Jan 2009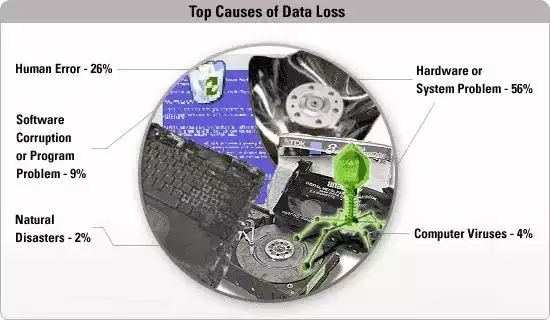 I'd like to take the time to talk about something that most people find boring, but is critically important when it comes to your computer, at work AND at home. Backups. They're not fun. They're not exciting. And the only time they really get a lot of attention is when:
They're not done and they're needed.
They don't work on a restore operation.
About 70% of the time when we present a Disaster Recovery plan I get a great deal of push back from senior executives on why it costs so much for hardware and software which they don't use on a regular basis (Of course they are referring to Recoveries, they *should* be using backup software every day). I can usually put down all objections for them, and probably home users too, with just one question:
What would it cost if you lost your data?
Think about that for a minute- what if you lost your payroll data? Tax records? Or at home, the picture of the baby's first steps? The movies of your son's graduation? There really isn't a good reason not to backup your data. The rule of thumb I use is if it takes longer to recreate it than to back it up, then back it up. So I wouldn't worry about a grocery list, but your college term paper should be backed up (I speak from bitter experience on that). We have a thriving business with Disaster Recoveries, and our partners are the BEST at getting data back. The Top Causes of Data Loss is courtesy of their hard work and real world experience. They have highly trained engineers and clean rooms where they can take apart failed drives (and other media) to recover any readable data on it. You get what you pay for- and skill and facilities to do these recoveries are not inexpensive. In the vast majority of recoveries I've been involved in, the expense could have been spared by following good back up procedures. (If it's too late and you found this post while looking for help on a disaster recovery, click the button on the Ontrack button at the top of the page and you can start the recovery process- trying to fix it yourself may make things worse).
Step 1- Decide what to back up.
Do you just need your documents?
What about email?
Your web browser's favorites?
Don't forget the stuff on your desktop either.
How about your operating system?
When in doubt, it certainly doesn't hurt to just back everything up. Some terms you might come across:
Full Backup; All files (our recommendation if you have the time/resources)
Incremental Backup; All changed files since the last Full Backup OR the last Incremental. To restore, you'll need your last Full and EVERY Incremental since then. Minimizes backup time and the expense of restore time.
Differential Backup; All changed files since the last Full Backup. Compromise between a full and an incremental- to restore you'll need your latest Differential and your latest Full backup.
Step 2- Where do I put it?
In another directory on the same drive. This is the easiest and least expensive solution- however there are some potential pitfalls. If anything happens to the drive (hardware failure, virus, theft) they you run the risk of losing all the data.
On another drive in the same computer. I install an extra drive in every desktop system I build for this purpose. It makes fast backups possible, and provides some protection from hardware failure, however the data is still vulnerable to viruses and theft.
To removeable media. You can backup to DVD, CD, Tape or external drives.
To offsite storage. This can be shipping physical media out- on an online backup solution
Step 3- How do I back it up?
Well the least cost and most accessible option is to use the native windows backup tool. Here are the step-by-step instructions for Windows XP Backup, Vista Backup & Restore.
For set it and forget it backups, hands down the only product I recommend to friends and family is Acronis True Image. Simple, easy and fast, it will back up all your files in an image, and you can restore the entire image or any part at your convenience.
Regardless of the solution you use, set it to regularly backup your files, and every so often check it to make sure it's working.
Step 4- Fire Drill!
This one gets missed a lot- even with our corporate clients. Periodically you MUST test restore your backups. Even if it's a file or two, just check to make sure they work. The absolute worst time to learn your backups weren't working is when you need them during an emergency. By periodically checking them, you ensure that you are as prepared as you can be for that day that you need you backup. Rest assured that day will come- it's a fact of using a computer and you should be prepared for it.
About Cliff Hatch
Cliff Hatch, MCSE+I, ACE, Security+ is the CIO for Cliff Edge Consulting, LLC (www.cliffedgeconsulting.com), a Las Vegas based consultancy specializing in Microsoft Technologies. (You may republish article in its entirety on your site provided you leave the author credit.)